BuildBuilding a smart home has become increasingly accessible in recent times, but the sheer number of options for home automation systems can make it challenging to select the right one. To streamline the process, it's advisable to opt for a brand that offers a complete suite of products, which will not only simplify compatibility issues but also ensure easy multi device automation.
Google, Amazon, Apple, and SmartThings are leading the smart home industry with their voice assistants, smart speakers, and ecosystems that make controlling your connected devices a breeze.
As always we will look into the products that is certified to use in Australia and New Zealand. Don't panic though, because this isn't like iOS versus Android, or PC versus Mac: a lot of smart home devices play nicely with multiple systems, so you don't necessarily have to choose a system and stick with it for the rest of your life.
For those seeking a wide range of products, both the Tuya IOT platform and the following ecosystems are worth considering:
GridConnect products
Mercator Ikuü products
GridConnect products
All GridConnect ecosystems products sold in Bunnings are certified to use in Australian/NZ. Company like DETA, Arlec, Antsig, Orion, Verve and Mercator creates products for the GridConnect series. GridConnect app available in iOS and Android is use to configure and control this devices.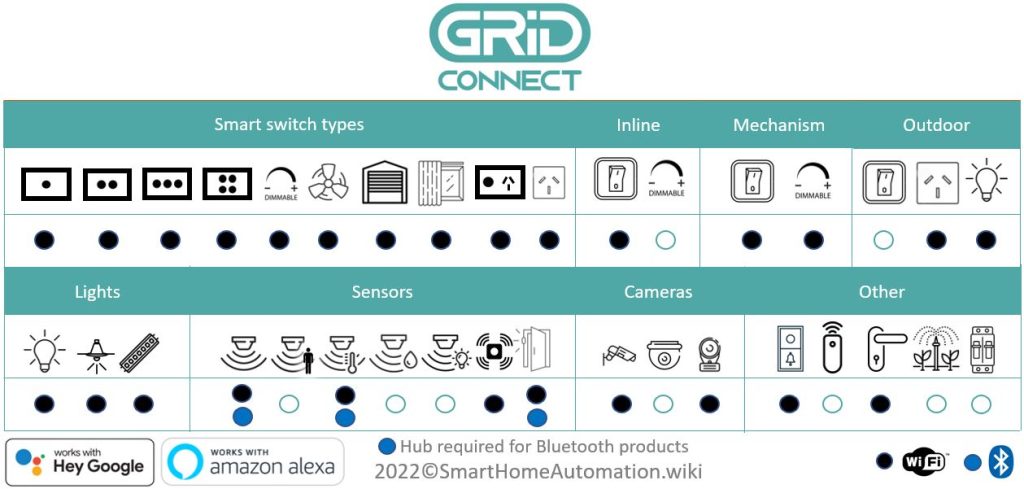 Positive
Mostly WiFi products – no hub required
GridConnect & Smart Life app available in iOS and Android
Negatives
Produce does not support Apple HomeKit or Siri
Mercator Ikuü is an Australian-owned brand offering smart home products that are simple to install, quick to set up and easy to use. The intuitively designed app and broad range of luxury products provide a convenient way to create an entirely personalised system.
Positive
Choice of products from WiFI and Zigbee range
Mercator Ikuü app available in iOS and Android
Negatives
Produce does not support Apple HomeKit or Siri
Icons legends