Setting up your smart home is getting easier than ever. Choosing the right smart home system to unify all your devices and get them talking together is not easy this required some serious consideration. Before you start making purchases, you need to make the right choice about how you're going to bring all this hardware together.
If you are build home automation for the first time, one of the simplest way to start will be choosing a product brand who has wide range of products. This simplify all the complication regarding products compatibility (how many devices are supported by each program), and the range of features on offer (like automatic scheduling).
Google, Amazon, Apple and SmartThings are the major players in the smart home arena now, with their smart speakers, ecosystems and voice assistants not only making your connected smart home devices easier to control, but to make home automation seamless.
As always we will look into the products that is certified to use in Australia and New Zealand. Don't panic though, because this isn't like iOS versus Android, or PC versus Mac: a lot of smart home devices play nicely with multiple systems, so you don't necessarily have to choose a system and stick with it for the rest of your life.
We can consider the one of the following ecosystems products. One of the main reason for consideration to pick a system that has a diverge range of products. in this case both of system Tuya IOT planforms as backend.
GridConnect products
Mercator Ikuü products
GridConnect products
All GridConnect ecosystems products sold in Bunnings are certified to use in Australian/NZ. Company like DETA, Arlec, Antsig, Orion, Verve and Mercator creates products for the GridConnect series. GridConnect app available in iOS and Android is use to configure and control this devices.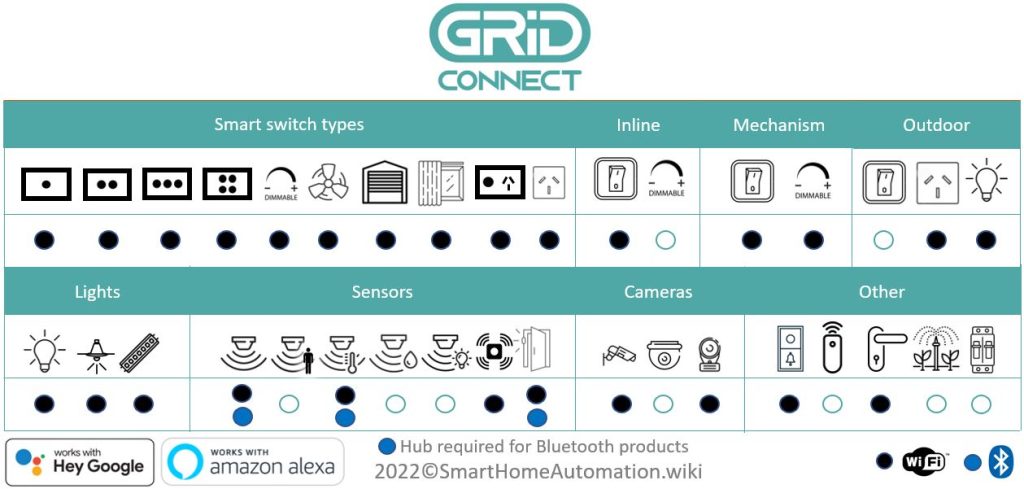 Positive
Mostly WiFi products – no hub required
GridConnect & Smart Life app available in iOS and Android
Negatives
Produce does not support Apple HomeKit or Siri
Mercator Ikuü is an Australian-owned brand offering smart home products that are simple to install, quick to set up and easy to use. The intuitively designed app and broad range of luxury products provide a convenient way to create an entirely personalised system.
Positive
Choice of products from WiFI and Zigbee range
Mercator Ikuü app available in iOS and Android
Negatives
Produce does not support Apple HomeKit or Siri
Icons legends